Investment Management
Our goal is to create simple, efficient, transparent portfolios with a focus on returns at the lowest risk and cost.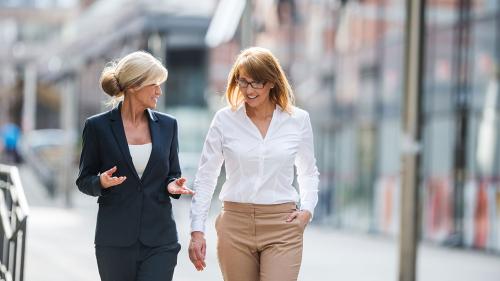 Investments focused on your goals and values
In many cases — even for successful business owners — the skills and knowledge you used to build your business aren't the right ones to help you manage and grow your personal wealth. Our advisors work with you to provide the meaningful and timely asset allocation decisions needed to take the emotion out of investing and improve your portfolio's performance. Using a deliberate and thorough planning process, we strive to set achievable goals for your investments with a priority on wealth preservation.
Investment Management Solutions
Investing is about eliminating distractions. That's why we focus on generating returns based on your objectives rather than arbitrary benchmarks. Our advisors build on their years of experience to craft an appropriate investment strategy, and then bring that strategy to life using an objective and unbiased investment platform offering access to a broad array of cost-effective investment solutions. All decisions related to asset allocation and investment manager selection are overseen by our seasoned and credentialed investment committee, giving you the institutional-quality investment solutions needed to achieve your goals both now and for years to come.
Brokerage services
Through our arrangement with Kingswood Capital Partners, LLC, our advisors are empowered with the flexibility and independence to serve our clients' every investment need, including:
Stocks
Mutual Funds
Money Market Funds
Exchange Traded Funds
Convertible Securities
Options
Fixed Income Strategies and Bond Ladders
Individual Bonds
Government Bonds
Corporate Bonds
Municipal Bonds
Master Limited Partnerships
Unit Investment Trusts
Real Estate Investment Trusts
Limited Partnership Structures
Check the background of this firm on FINRA's BrokerCheck.
Achieving big goals with Private Wealth Advisors
We believe we've created something truly unique at Texas Capital Bank Private Wealth Advisors — a team large enough to provide you with the breadth of service and depth of expertise you require, but small enough to get to know you and your goals firsthand.
Maximize your charitable giving.
Donate securities through a Donor Advised Fund to forego long-term capital gains taxes and maximize the impact of your gift. Offered through the Southwest Community Foundation.
Read More
Connect with an Advisor.
Experience more with Private Client Advisors who are committed to helping you grow.
Contact Our Experts
Private Banking is provided by Texas Capital Bank (the "Bank"). Advisory services are offered through Texas Capital Bank Wealth Management Services, Inc. d/b/a Texas Capital Bank Private Wealth Advisors ("PWA"), a wholly owned subsidiary of the Bank and an investment advisor registered with the U.S. Securities and Exchange Commission ("SEC"). SEC registration does not constitute an endorsement of the advisory firm by the SEC nor does it indicate that the advisory firm has attained a particular level of skill or ability. Brokerage services are offered through Kingswood Capital Partners, LLC ("Kingswood"), Member FINRA/SIPC. Texas Capital Bank Private Wealth Advisors and Texas Capital Bank, are not registered broker/dealers and are independent of Kingswood. Investments and insurance products are not insured by Bank insurance, the FDIC or any other government agency; are not deposits or obligations of the Bank; are not guaranteed by the Bank; and are subject to risks, including the possible loss of principal. Nothing herein is intended to constitute an offer to sell or buy, or a solicitation of an offer to sell or buy securities.
Investing is subject to a high degree of investment risk, including the possible loss of the entire amount of an investment. You should carefully read and review all information provided by PWA, including PWA's Form ADV, Part 2A brochure and all supplements thereto, before making an investment.
Neither PWA, the Bank nor any of their respective employees provides tax or legal advice. Nothing contained on this website (including any attachments) is intended as tax or legal advice for any recipient, nor should it be relied on as such. Taxpayers should seek advice based on the taxpayer's particular circumstances from an independent tax advisor or legal counsel. The wealth strategy team at PWA can work with your attorney to facilitate the desired structure of your estate plan. The information contained on this website is not a complete summary or statement of all available data necessary for making an investment decision, and does not constitute a recommendation. The information has been obtained from sources considered to be reliable, but we do not guarantee that the foregoing material is accurate or complete. Any opinions are those of the authors and not necessarily those of PWA or the Bank.