Privacy & Security Center
As part of our business, we take certain measures to protect you and your information online.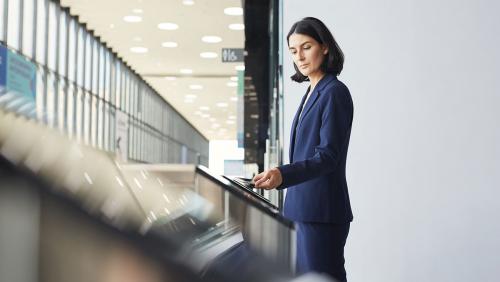 What we do to protect you
Fraud Resources
The Fraud Prevention Security Portal is a comprehensive site that explains the most up-to-date scams targeting both businesses and individuals. The portal addresses traditional fraud scenarios and explains the growing number of online fraud trends, such as business email compromise (BEC), fake commerce websites and scams involving social media. Mitigate the risk of becoming a victim by taking advantage of the many e-learning courses available for both commercial and personal banking clients in both English and Spanish here.
Phishing: is a type of cybercrime that involves a bad actor attempting to trick you into providing information, often by providing a link that captures the information you input. These emails are intended to appear as if they are coming from an entity you know or trust, and they often contain a call to action combined with a sense of urgency related to their request.

Watch out for these common phishing techniques:
Sender names
IP/Email extensions
Links and file attachments
Impersonal language
Poor grammar and punctuation
A common type of fraud involving Commercial accounts is check fraud. This can occur by the fraudster obtaining only an account number and simply creating counterfeit checks to fit a particular con scheme. Fraudsters will find individuals online who later fall victim to the fraud scheme without realizing their involvement. The individual is given instructions along with a check that contains the commercial account information. The instructions normally request the individual to negotiate the item at a financial institution, then wire the funds to a different account, typically belonging to the fraudster using other people's identifying information to mask the fraudsters identity.
A good preventative measure is to review your accounts daily for potential fraudulent transactions. In the event there is confirmed fraud, immediately report the transaction to the bank. Protect your business accounts by obtaining more information on Treasury Products offered.
One of the most common types of fraud is email compromise attacks. This cyber crime can target a business or an individual, and both can have devastating results. Be particularly wary of emails that have sense of urgency or last-minute changes to funding instructions. If you receive a suspicious email, make sure to avoid clicking links or downloading attachments. If you feel that your email has been compromised or have any questions, please contact via secure message inside OLB or give us a call at 877-839-2265, option 3, then option 2.
Learn how to remain aware of social engineering scams that utilize email to target businesses and individuals here.
While no organization is immune from either internal or external fraud, it is imperative that you take preventive measures through use of technology and procedures.
To get started, download the Fraud Protection Checklist.
Discover how Texas Capital Bank can help you prevent fraud.
Strong Authentication Requirements
We prompt you to create a unique username and password when you first access your account, and always require an additional authentication factor to log in. This extra layer of security works to keep your account safe, even if someone else gets access to your username and password.
Secure Online Messaging
We provide a secure, encrypted messaging system you can use to discuss your accounts with our associates once you're logged in to the online banking portal. We recommend you use this service for all online communications about your accounts, and as a reminder - we will never ask for confidential information like usernames, passwords, or account numbers via email.
Security Alerts
We provide the ability for you to configure text, email, and secure online notifications to inform you in real time about transactions and events that could have a security or fraud impact on your Texas Capital Bank accounts. You can set these alerts up in the Settings section of the online banking portal.
Fraud & Protection Security Team
Our dedicated fraud protection and security team is made up of former law enforcement, Certified Fraud Examiners, and IT security professionals. Together, they are experienced in proactively identifying and acting on fraudulent occurrences as well as providing counsel and advice.
Identity Verification, Fraud Monitoring & Restricted Access
We will always verify your identity before granting access to your information or accounts, and access to data is based on the "principle of least privilege", meaning that employees can only see what they need to in order to perform their job function.
Branch & Office Security
All branches and office locations are protected by security mechanisms such as cameras, badging systems, and other methods to prevent theft of resources or information. Employee-only areas are protected by badge readers based on job function and restricted based on role and time of day. All employees are trained and must adhere to our security policies and are trained, both at hire and on an ongoing basis.
Connect with an expert banker.
Experience more with experienced bankers who are committed to helping you grow.
Contact Our Experts