Energy
For more than two decades, Texas Capital Bank has been active in the energy and oil & gas industry, building a reputation for delivering on our promise to clients who operate within different specialty areas. It's part of who we are — our past and our future.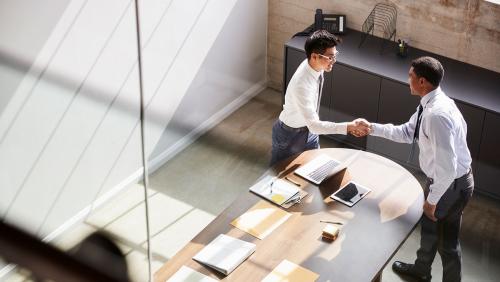 More than capital, we offer commitment.
Our seasoned team of dedicated relationship managers, portfolio managers and underwriters delivers more than 75 years of collective experience in energy, oil & gas. Our team includes in-house petroleum engineers — helping us ensure that we aren't beholden to outside parties and can respond to your needs quickly.
Who we serve
Our clients include private equity backed, family-owned, public and private businesses. The senior debt we provide is equally expansive, supporting acquisitions, development drilling, royalty/mineral interests, midstream infrastructure and saltwater disposal.
What we offer
We provide a variety of credit structures to fit the unique needs of your project, including revolving lines of credit and term loans starting at $10 million. We can also arrange, underwrite, agent and distribute syndicated loans of any size.
We power the companies that power the nation.
See how our combination of industry knowledge, financial strength and flexible solutions can benefit your business.
Learn more about our capital solutions, including revolving lines of credit designed to keep you forging ahead.
Explore our payment and treasury solutions backed by an online platform to increase control and visibility.
Our specialized team is experienced in leading syndication loans, arranging and underwriting financial structures to meet your requirements.
Connect with an expert banker.
Experience more with experienced bankers who are committed to helping you grow.
Contact Our Experts