Manufacturers
From procurement to distribution and everything in between, our specialized bankers understand the challenges manufacturing companies face — and have the solutions to keep them moving forward.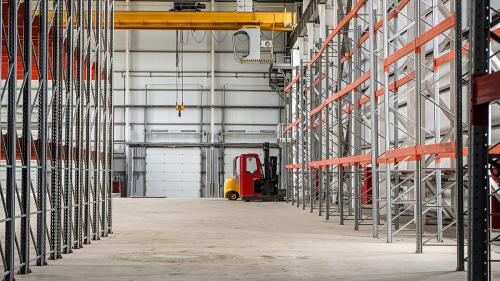 We provide the ideal mix of financial strength, expertise and industry understanding.
Our tenured bankers come from diverse backgrounds to deliver an uncommon level of institutional knowledge. Add to that a nimble structure, full-service solutions and a culture of empowerment, and you have the makings of a strong financial relationship that can grow with you.
At Texas Capital Bank, our manufacturing clients are always talking to a seasoned banker that understands their business. Equally important, they're talking to a decision-maker. When you need capital to build your next factory, purchase raw materials, acquire new equipment or just run day-to-day operations, our experts work to tailor a customized solution that works for you. In addition, we serve as strategic advisors, continuously collaborating with clients and even providing uncommitted guidance notes to help you stay one step ahead of opportunities.
Who we serve
Our diverse expertise translates to a host of different manufacturing processes and industries, from single-location, midsize businesses to large corporations with facilities across North America.
What we offer
Our specialized group of bankers will start by analyzing your working capital and financing needs. Then, they will put a line of credit or term debt in place that supports your unique business goals.
Banking services and business loans to help you build the future
We work hard to present all the options available to manufacturers, offering a variety of ancillary services designed to support your needs.
Explore our complete suite of treasury solutions, including wire transfers, positive pay, online banking, payee match and information reporting.
Our suite of global solutions includes a secure foreign exchange (FX) platform that allows clients to authorize and submit FX payments online.
Learn more about our fraud monitoring and protection systems backed by an expert team with experience at the state and federal level.
More than just sized for flexibility, Texas Capital Bank is positioned to grow with our clients. We have an SBA group, middle-market corporate group and a corporate group, and we can bring in our syndications group to help clients expand further.
Bill Rolley
Executive Vice President | Texas Capital Bank
Connect with an expert banker.
Experience more with experienced bankers who are committed to helping you grow.
Contact Our Experts