Investment Banking
We provide expert advice on capital markets, recapitalizations, liability management, mergers and acquisitions, hedging and other transactions.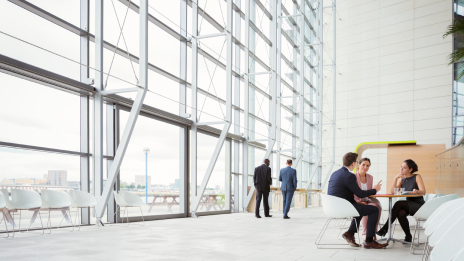 Focused on Exceptional Client Results
Texas Capital Securities offers a full suite of investment banking products and services focused on delivering exceptional outcomes for our clients. Leveraging a deep knowledge of industry dynamics, transaction structure and market conditions complemented by our extensive network of investors, buyers, lenders and other capital sources, we assist our clients to complete underwritten and privately placed offerings of debt, convertible and equity securities, buy-side and sell-side mergers and acquisitions and other extraordinary transactions. Additionally, we assist our clients to manage rates, foreign exchange, and commodity risks, and enable market access by offering sales, trading and other institutional services.
Market Insights
Sign up here to receive the insights in our Weekly Commentaries newsletter.
Syndicated Finance
Our syndicated finance group assists our customers by advising, structuring and arranging credit facilities that require the combination and collaboration of multiple financial institutions. We have deep connectivity with our network of bank and institutional lenders across corporate finance, mortgage finance and commercial real estate. Our team works collaboratively to educate clients regarding structuring terms, market conditions and documentation standards. Whether your financing is driven by liquidity, acquisitions or organic growth, we are committed to delivering a seamless execution to support your corporate needs.
Learn More
Capital Markets
Our capital markets professionals can help assess your available alternatives, select the market that optimizes your cost of capital and guide you through the process. Whether your capital needs are driven by growth, liquidity or refinancing, we leverage our extensive experience delivering superior outcomes in a variety of market conditions to structure, distribute and close your financing.
Learn More
Mergers & Acquisitions
Our mergers and acquisitions professionals work collaboratively to understand what makes your company unique so that we can position it in a compelling way to target buyers or sellers. Our process is designed to accommodate your priorities — whether highly targeted or fully marketed — to our broad network of strategic buyers, financial sponsors, family offices and others. Our mergers & acquisitions professionals leverage extensive experience as advisors and business owners to deliver exceptional outcomes.
Learn More
Financial Sponsors Coverage
Our financial sponsors coverage professionals focus exclusively on the banking, capital markets and advisory needs of private equity funds and similar institutional investors. We collaborate extensively with Texas Capital's financial institutions corporate coverage team and Private Wealth Advisors to provide a full suite of products and services for portfolio companies, general partners and individual partners. Our nationwide financial sponsors coverage effort focuses on sponsors across the country doing business with companies in Texas, and on sponsors based in Texas doing business across the country.
Learn More
Capital Solutions
Our capital solutions professionals focus on assessing and developing comprehensive hedging and other capital solutions for clients looking to manage risk or enhance capital or liquidity. We leverage expertise in rates, foreign exchange and commodity markets, together with extensive experience with complex capital structures and liability management transactions to help clients to achieve a broad range of solutions and outcomes across the capital structure.
Learn More
Institutional Services
Our institutional services professionals enable market access for our clients through sales and trading activities in corporate and mortgage securities. We offer significant experience in fixed income and equity markets, and leverage our extensive network of domestic and international institutional accounts to provide accurate insight into market conditions and actionable access to the markets.
Connect with an expert banker.
Trading in securities and financial instruments, strategic advisory, and other investment banking activities are performed by TCBI Securities, Inc., doing business as Texas Capital Securities. TCBI Securities, Inc. is a member of FINRA and SIPC and has registered with the SEC and other state securities regulators as a broker dealer. TCBI Securities, Inc. is a subsidiary of Texas Capital Bancshares, Inc., the parent company of Texas Capital Bank.
All investing involves risks, including the loss of principal. Past performance does not guarantee future results.
Securities and other investment products offered by TCBI Securities are not FDIC insured, may lose value and are not bank guaranteed.