Texas Capital Bank Mobile Center
Providing financial literacy education and disaster recovery to underserved communities throughout Texas.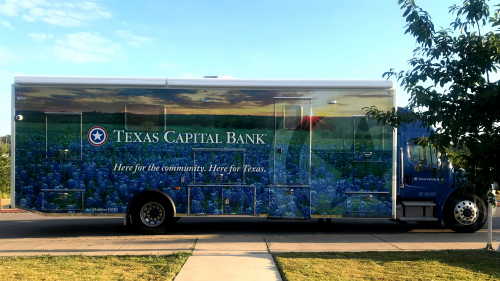 Texas Capital Bank Mobile Center
Outfitted with the Financial Instructional Tools (FIT) curriculum, the Mobile Center provides customizable financial literacy education for all ages and stages of life. FIT helps individuals set and reach financial goals in a game-like setting, which makes learning about financial goals fun.
Texas Capital Bank's Mobile Center is also equipped with two ATMs and can serve as a fully functioning branch.
During disaster relief operations, The Mobile Center is especially useful as a flexible space that can meet a variety of needs depending on the situation. It was deployed during the flooding that happened as a result of Hurricane Harvey, providing uninterrupted banking services to Texas Capital Bank clients in Houston.
The Texas Capital Bank Mobile Center was deployed in March 2020 to Parkland Hospital's mobile testing site in Southern Dallas, a traditionally underserved area. This deployment equipped Dallas' county hospital with vital resources to quickly serve one of the hardest hit communities. The Mobile Center remained deployed to this site for the remainder of the year and into 2021. Additionally, the Mobile Center at the Ellis Davis Fieldhouse testing site has become a refuge for medical staff in need of respite after long shifts.