Our Values in Action
Texas Capital Bank is committed to implementing progressive initiatives that support a better tomorrow for both our employees and the communities where we do business.
Here's how this philosophy informs our environmental, social and governance reporting efforts and helps us continue to grow.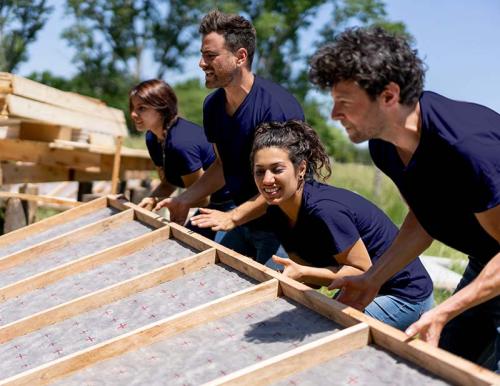 Empowering the Communities We Serve
We envision communities where all families have access to a great quality of life, an education that will prepare them to succeed and the support they need to thrive. Through financial education initiatives, community impact grants, community reinvestment and disaster recovery efforts, we're committed to putting our values in action far beyond our own walls.
Texas Capital Bank Foundation
Giving back has always been part of who we are — that's why we're proud to announce the launch of the Texas Capital Bank Foundation. By investing our time, attention, and financial resources, we believe we can inspire hope and create lasting change. From philanthropy to volunteer service to financial wellness, we are committed to serving our communities and helping them thrive through our most ambitious giving year yet.
Learn More
Community Impact
Under our strategic pillars of "Live," "Learn" and "Lift," we envision communities where all families have access to a great quality of life, an education that will prepare them to succeed and the support they need to thrive. Through our charitable grant program, we invest in low-and-moderate income communities, and we are proud to offer financial education courses in partnership with EverFi.
Learn More
<em><font size="2">As of December 31, 2021.</font></em>
PHILANTHROPY
Texas Capital Bank Gives $50,000 to the American Cancer Society
In honor of National Cancer Survivors Month in June 2022, Texas Capital Bank launched a fundraiser to benefit the American Cancer Society's life-saving work in the state of Texas.
Our goal was to raise $10,000 by June 1, 2022. The bank pledged to match every dollar that employees raised up to $10,000, for a total of $20,000. In less than 24 hours we met that $10,000 goal, but didn't stop there – employee donations continued to pour in, and the amount raised soon surpassed $20,000. All told, we contributed $50,000 to the American Cancer Society.
Cultivating a Community of Choice
Our teams at Texas Capital Bank share common commitment to collaborative change, because we believe that a diverse community helps us better understand and address the needs of our clients, our communities and each other.
Building a 21st Century Workforce
Our goal is to attract, develop and engage the best and brightest talent from all walks of life and backgrounds. We know that an inclusive culture allows innovation to grow, drives success and makes our whole team better.
We developed a hiring strategy for building and sustaining a diverse, equitable and inclusive environment that includes internship programs, new hiring processes, and strategic partnerships with historically black colleges and universities (HBCUs) and Hispanic-serving institutions (HSIs).
Learn More
By fostering an inclusive, respectful and diverse workplace where all voices are heard and valued, together we will strengthen our position as a leading financial services firm.
Rob C. Holmes
President & Chief Executive Officer | Texas Capital Bank
Guiding Practice with Purpose
We believe that it's important for our clients to reflect the values behind how we do business, which is why we endeavor to steward our capital and resources toward investments that drive socially responsible and sustainable business practices. As part of our regular process around engaging with clients, our "know your customer" program and robust due diligence assessments help evaluate potential environmental, social and governance risk factors so that we can remain committed to doing business in the most sustainable way possible.
Our Commitment to Effective Governance
Texas Capital Bank's Board of Directors is comprised of individuals who reflect the diversity represented by our employees, our clients and our communities. In recent years, our Governance Committee took this priority to heart in its nomination process, broadening the diversity of our Board and its continued expansion.
The Governance Committee considers diversity in a broad sense, including diversity of viewpoints, background, work experience and other demographics, such as race, age, gender identity, ethnicity, nationality, disability, sexual orientation and cultural background. The Board believes that diversity results in a variety of points of view and, consequently, a more effective decision-making process.
Meet Our Board
Learn more about working at Texas Capital Bank.
Say hello to your future career at America's most trusted bank — a place where clients love to bank and employees love to work.
Explore Job Openings