Community Impact
Texas Capital Bank's Community Impact Program exists to remove barriers that stand in the way of communities becoming healthy, resilient and prosperous.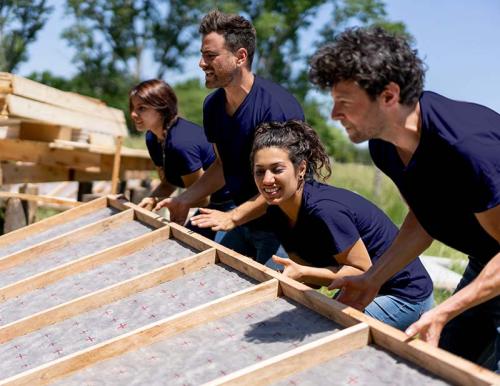 Empowering the communities we serve
We envision communities where all families have access to a great quality of life, an education that will prepare them to succeed and the support they need to thrive.
Live
Basic needs to support quality of life
Learn
Educational opportunities for lifetime success
Lift
Supportive services for individuals, small businesses & veterans
Texas Capital Bank Foundation
Giving back has always been part of who we are — that's why we're proud to announce the launch of the Texas Capital Bank Foundation. By investing our time, attention, and financial resources, we believe we can inspire hope and create lasting change. From philanthropy to volunteer service to financial wellness, we are committed to serving our communities and helping them thrive through our most ambitious giving year yet.
Learn More
Community Reinvestment
Texas Capital Bank invests in low-and-moderate income communities by financing affordable housing, job creation, community revitalization projects and other ventures that empower communities. In 2021, we created over 1,000 new affordable housing units.
Texas Capital Community Development Corporation (TCCDC) is a wholly-owned subsidiary of the bank, whose purpose is to lend and invest in economic development for underserved communities.
LEARN MORE ABOUT TCCDC
Financial Education
We're proud to offer online financial education courses in partnership with EverFi, which can be accessed on-demand. This series of short, interactive courses provides tips and advice to help you, your family or your business become more financially sound and better prepared for the future.
Start Learning
Mobile Center
The Mobile Center provides customizable financial education for all ages, outfitted with the technology-based Financial Instructional Tools (FIT) curriculum. It can also be used as a temporary branch, providing clients with uninterrupted service in the aftermath of natural disasters. In 2020, we created customized, virtual financial literacy curriculum during the global pandemic.
Learn More
Facilitating Equal Access to Capital
Texas Capital Bank has partnered with Lendistry, a minority-led fintech company that helps small business owners achieve equal access to capital, to give underserved small businesses the fair chance at affordable financing they deserve. Since 2015, veteran, women and minority-owned businesses have worked with Lendistry throughout their growth.
Learn More
Disaster Recovery
Texas Capital Bank supports several organizations to help provide food, shelter and other immediate needs for people affected by disasters. Our Employee Assistance Fund gives our employees who have been impacted by a disaster assistance to help them recover quickly.
learn more
Volunteerism
Texas Capital Bank's employees spend an average of 10,000 hours per year volunteering in company-sponsored projects, teaching financial literacy and skills-based volunteering. Impact Teams are committees in each of our offices that coordinate volunteer projects to serve their local community. These teams are completely voluntary and serve as the hands and feet of our volunteer program.
<h3><center>Our Impact in Action</center></h3>