International Trade
Expand to global markets knowing you have an experienced advisor to help navigate the complexities of international trade.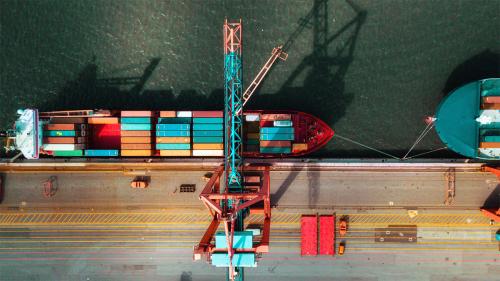 Conduct international business with confidence.
You're ready to expand internationally, but you have questions about buying and selling on the global stage. The Global Services group at Texas Capital Bank can provide the answers — and build a financial strategy with the right mix of financing options and trade services backed by targeted global financial expertise. Whether you're importing, exporting or doing a combination of the two, you can take advantage of a full suite of solutions that enable quick payments, foster smart growth and protect your bottom line.
Export Trade Finance
Expand into new global markets and alleviate cash flow challenges with a range of customizable export trade finance options. Choose from medium-term financing or more tailored and flexible pre-export capital loans, including loans based on accounts receivable, inventory and assets.
EXIM Programs
As an EXIM Bank Delegated Lender, we support exporters that sell into developing economies and emerging markets, offering flexible loan structures, attractive advance rates on accounts receivable and inventory, and work-in-process financing.
Export Trade Services
To help ensure international payments are transmitted and received in a proper and timely manner, we can provide Export Letters of Credit. In addition, our Global Services team can help you understand and comply with Export LC's terms and conditions, and provide export documentary collections, allowing you to receive payment for goods sold abroad.
Import Trade Finance
Empower your import business with flexible financing that allows you to order and receive goods and later sell and receive payment from your own customers. We also offer banker's acceptances, a useful tool for financing imports or exports on a short-term basis.
Import Trade Services
Build confidence with foreign suppliers with an Import Letter of Credit (LC) from Texas Capital Bank. Our team can also help draft and issue an Import LC, reach out to vendors in multiple countries, and examine all documents to ensure compliance with the LC terms. Or use our import documentary collection service to pay foreign suppliers for purchased goods.
Standby Letters of Credit
Take advantage of global and domestic business opportunities while freeing up funds that would otherwise be tied up in deposits with a Standby Letter of Credit. We'll work to ensure your company is protected while providing you and your business partners the assurances you need to close the deal. We have a very diversified Standby portfolio covering multiple markets that can accommodate most any structure your company may require.
We have the know-how & results to offer expert service.
Connect with an expert banker.
Experience more with experienced bankers who are committed to helping you grow.
Contact Our Experts