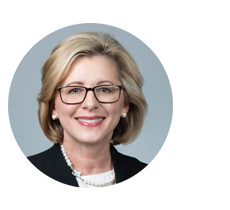 Shannon Jurecka
Managing Director,
Chief Human Resources Officer
Texas Capital
Shannon Jurecka serves as Managing Director and Chief Human Resources Officer at Texas Capital. She is responsible for furthering the bank's human capital strategy, facilitating the framework and protocols that enable employee success, and working closely with the Board of Directors and CEO to ensure transparency and alignment.

Prior to joining Texas Capital, Jurecka served as SVP and Chief Human Resources Officer at Celanese Corporation, where she advanced the company's diversity, equity and inclusion efforts, resulting in an increase of representation for women and people of color in the executive and management levels of the organization. She provided oversight for the implementation of a global payroll provider, resulting in over $700,000 in annualized savings for the company. Under her leadership there was an increase in mental health support and support for nursing mothers, as well as the launch of a global initiative focused on a respectful workplace. She also worked with Celanese's Board of Directors in the search for a new CEO, which resulted in the hire of the company's first female CEO.

Prior to Celanese, Jurecka held a 10-year career in human resources at Bank of America. She most recently served as the West Region Site Human Resources Executive, responsible for strategic HR objectives in support of over 20,000 operations employees in 25-plus locations across 7 states. Jurecka was also the Dallas Market HR Executive, responsible for delivering on market strategic talent objectives. Prior to joining Bank of America, she held positions at Dell Computer in both project management and Human Resources.

Jurecka has been recognized as one of the Top 50 HR Professionals in the nation as well as among the top 100 Chief Diversity Officers by the National Diversity and Leadership Council. She was named a Top 15 Business Women in Dallas by the National Women's Council and awarded the 2018 Dallas Power 50 by the Texas Diversity Council. She also serves on the board for City Year Dallas.

Jurecka earned a Bachelor's in Speech Communication from Sam Houston State University and a Master's in Organizational Leadership and Ethics from St. Edward's University. She holds a Secondary Education Teaching certificate in the state of Texas.