Disaster Relief and Recovery
When disaster strikes, Texas Capital Bank stands ready to take care of our clients, communities and employees any way we can.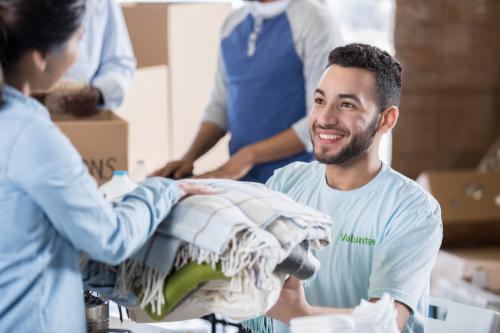 American Red Cross Partnership
Texas Capital Bank is a Ready 365 partner with the American Red Cross. As a Ready 365 Giving Circle Partner, Texas Capital Bank stands with the Red Cross to provide lifesaving services every day of the year. Through our support with Red Cross, we help provide help, hope and compassion to those who need it most.
To join Texas Capital Bank's partnership with American Red Cross to provide life-saving disaster relief services, we invite you to make a donation.
<iframe src="https://player.vimeo.com/video/558111324" width="640" height="360" frameborder="0" allow="autoplay; fullscreen; picture-in-picture" allowfullscreen></iframe>
Mobile Center
Our Mobile Center serves as a temporary branch during disaster recovery operations when needed, providing full branch banking services to clients in the aftermath of a natural disaster. After Hurricane Harvey, the Mobile Center was deployed to Houston when our banking center was flooded, providing clients with uninterrupted service. During the pandemic, the Mobile Center was deployed to Dallas County's mobile COVID-19 testing site in southern Dallas hosted by Parkland Hospital. The Mobile Center served as a place of respite for healthcare workers and as an annex for testing.
Learn More
Volunteer Assistance
Texas Capital Bank provides financial and volunteer assistance to disaster-response organizations in the aftermath of major storms and hurricanes. We support several organizations to help provide food, shelter and other immediate needs for people affected by disasters. We also established an Employee Assistance Fund to help Texas Capital Bank employees who have been impacted by a disaster recover quickly.