How to Defend Your Business Against Cybercrime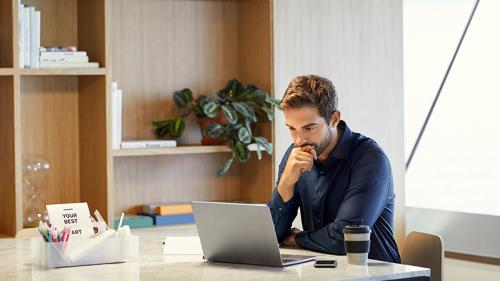 As your business evolves and inevitably shifts more of its resources online, guarding your information becomes synonymous with guarding your success. Plenty of organizations elect to contract their cybersecurity services out to specialized firms, but one undeniable fact remains: securing your data will always start with you. For example, keep your cybersecurity intact by maintaining a private Wi-Fi connection, utilizing separate devices for work and personal use, using spam filtering software for emails and choosing a bank that prioritizes your safety and stability. Equally important, is remaining proactive and educated on proven techniques to secure your data from wherever your success takes you.
Defending Your Data While at Home and During Travel 
Poor cyber hygiene can become a major liability for your business. A multitude of different risk sources, like unsecured third-party connections, vulnerable tech environments, and your supply chain, can all result in data being siphoned away from your network. There are methods available to reduce infiltration into your business' systems, whether you're working from home or on the go:
Keep your device online with a wired Ethernet connection or a WPA2 (Wi-Fi Protected Access 2)
Make sure your router and modem firmware are always up to date
Make use of a VPN (Virtual Private Network) when accessing employer systems and data
Avoid the use of public Wi-Fi when viewing confidential information, and use a personal hotspot instead 
Secure loT devices (smart speakers, appliances, etc.) with strong and unique passwords
Make sure your devices are always secured and accounted for 
Keep separate devices for work and personal use
Disable your devices' automatic Bluetooth pairing
Keep your devices off unfamiliar auto-join Wi-Fi Networks 
Avoid using borrowed chargers and public charging stations
Choosing a Bank that Prioritizes Your Safety and Stability 
In the matter of financial security, keep in mind that cybersecurity solutions are not one-size-fits-all, as there is much to consider about your business' unique needs, priorities and future goals. However, a consistent priority should be choosing a bank with best-in-class cybersecurity solutions that effectively shield your data, and your peace of mind. A good place to begin is to ask yourself- what plans are currently in place to address a threat to my company's financial data?
We've come to understand through our expertise of cybersecurity and financial services that this type of consultative approach is ideal for reliable cyber solutions. By collaborating with a trusted provider to develop a sound plan of action for both active and potential threats, you can not only identify vulnerabilities, but opportunities to improve the overall financial health of your business. 
At Texas Capital Bank, we assist our clients by providing them with up-to-date resources and advice that will maintain the safety of digital information in addition to implementing our own proven processes and procedures internally. Armed with this knowledge, our clients minimize the risk of cyberattacks before they escalate into long-term challenges and can have faith that their financial data is handled properly. Although, should any malicious digital tools bypass these methods, rest assured that our nimble team is uniquely positioned help to mitigate and abate the damage. 
Texas Capital Bank Cybersecurity
Our cybersecurity team keeps a vigilant guard over all of your financial transactions to optimize your cyber risk management by minimizing opportunities for cyberattacks. We accomplish this by equipping you with essential resources, including comprehensive online protective measures to establish a baseline of practices to help you remain proactive in your defenses. You will also benefit from secure online messaging, security alerts, money movement approvals, email filtering, anti-fraud solutions as well as branch and office security.
Cybersecurity is of the utmost importance to us, which is why we offer best-in-class solutions that have earned us the title of the "#1 Most Trusted Bank in America'' from Newsweek, as well as an "A" score from Security Score Card (a security rating service). Our previous work in cybersecurity has also been recognized here at home in Texas, where we lead the Texas Department of Banking Collective Defense Initiative. This, further fortified with our network detection and response software allows us to swiftly report and repel suspected fraud and cybercrime amongst our network of banks.
With an established portfolio of services and countermeasures monitored by groundbreaking software in place for your safety, Texas Capital Bank takes cybersecurity seriously. To add our cybersecurity solutions to your repertoire of digital defense and begin learning how you can improve your cyber risk management, get in touch with a member of our team today.
Connect with an expert banker.
Experience more with experienced bankers who are committed to helping you grow.
Contact Our Experts