SBA & Business Loans
Whether you're launching a new product, funding new growth, acquiring a company or purchasing your office, warehouse, store or equipment, capital is the key to unleashing the power of your business. Our team of lending experts is here to work by your side to determine the right structure for your organization's needs.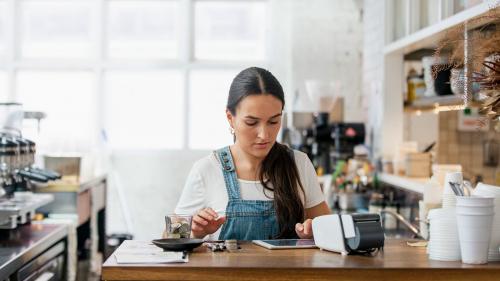 SBA Loans
We're committed to helping grow small businesses into something great. As a Preferred Small Business Administration (SBA) lender, the dedicated SBA team at Texas Capital Bank will work closely and efficiently with you to complete the loan process. Our seasoned bankers have decades of experience in small business lending and are committed to working with you one-on-one to help you reach your goals, no matter how big they may be.
Benefits of an SBA Loan
An SBA 7(a) or 504 Loan provides businesses with access to capital that might not otherwise be available, with more flexible underwriting than conventional business loans.

With an SBA Loan, businesses can benefit from:
Lower down payment requirements
Longer repayment terms — up to 25 years
Lower capital injection requirements
Lower cash flow requirements to cover payments
Ability to conserve cash for operating expenses
 
SBA 7(a) Loan 
SBA 504 Loan
Use 
A Variety of Business Needs (details below)
Real Estate & Equipment 
Loan Size
$500,000 to $5,000,000
$2,000,000 to $15,000,000 
Interest Rates 
Variable or fixed rate
Variable or fixed rate
Terms 
10 to 25 years, depending on loan purpose

Up to 10 years for machinery or equipment
Up to 25 years for real estate

Loan Purpose  

Expand or acquire a business
Purchase or construct real estate
Refinance existing business debt
Buy equipment
Provide working capital
Finance building improvements
Purchase inventory
Refinance owner occupied real estate  

Purchase land or an existing building
Expand or improve an existing building
Purchase long-lived machinery or equipment

Loan Structure  

Up to 90% bank loan
Borrower down payment as low as 10% 

50% bank loan
Up to 40% from a Community Development Corporation (CDC) loan
Borrower down payment as low as 10% 
All loans subject to Texas Capital Bank credit approval and SBA eligibility.
Frequently asked questions about SBA Loans
The Small Business Administration (SBA) is a U.S. government agency that approves billions of dollars in loans to small businesses every year. Most SBA Loans are issued through a bank, a credit union or other lending institution, and the SBA guarantees part of the loan. This guarantee allows banks to utilize more flexible underwriting guidelines in evaluating an SBA Loan request, since a portion of the bank's credit risk is offset by the government's guarantee. The guarantee amount varies depending on the size of the loan.
Interest rates on SBA Loans are set by the lender, in keeping with SBA guidelines. The rate is based on the prime rate, plus an additional markup rate called the spread. Interest rates vary slightly depending on the size and terms of the loan.
SBA Loans require a high level of expertise to ensure a smooth application process, so you'll want to select a lender who is a Preferred SBA Lender. This means the bank is authorized and approved to underwrite the credit application instead of submitting it to the SBA for approval, which will save time in completing the loan process.
Not all business types are eligible for an SBA Loan. Financial institutions, life insurance providers, passive businesses (for example, investment properties) and speculative businesses (such as oil exploration) are among those who cannot secure SBA financing.

In addition, your business must:
Do business in the U.S.
Operate for profit
Meet SBA business size standards
Have a reasonable amount of invested equity
Have a demonstrable ability to repay the loan
This list is not all-inclusive, but some of the most common approved loan purposes are:
Business acquisition and partner buyouts
Purchase of owner-occupied commercial real estate, including special use properties
Building construction or expansion
Working capital
Debt refinancing
Purchase of machinery or equipment
Purchase of furniture, fixtures and/or leasehold improvements
Preliminary Discussion
Overview of business and loan purpose
Interim financial statements for the business
Three years' business and personal tax returns
Personal financial statements

At Application
Completed loan application
Business plan with projections and assumptions
Accounts payables and accounts receivables aging reports
Affiliate company information
Copy of purchase agreement (for business purchase)

During Loan Process
Be ready to provide additional information during the loan process. Sometimes the documentation may not paint a full picture, and the loan officer may ask for your help in filling in any gaps.
Connect with a Loan Officer.
Complete the form below to contact an SBA Loan Officer.
Contact An Expert
Business Loans up to $750,000
Small businesses are the lifeblood of our economy. That's why we provide small business owners with the lifeblood they need to start, acquire and grow their business with our comprehensive suite of loans and deposit products. Our dedicated Business Banking group can provide access to capital up to $750,000, with industry-leading processes ensuring equal credit opportunity and fair lending for all applicants.
These business loans can be used for virtually any business purpose that you designate, such as:
Commercial real estate
Equipment
Working capital
Business acquisition
Debt refinancing
Furniture, fixtures and/or leasehold improvements

Contact our Business Banking group today so we can tailor a loan program that best fits your financing needs.
 
All loans subject to Texas Capital Bank credit approval and SBA eligibility.
Connect with an expert banker.
Experience more with experienced bankers who are committed to helping you grow.
Contact Our Experts
Paycheck Protection Program
PPP Loans
The Small Business Administration (SBA) has announced that all funds for the Paycheck Protection Program (PPP) have been allocated. In light of this news, Texas Capital Bank is no longer accepting new PPP applications.
For Current PPP Clients
To ensure you're ready to apply for forgiveness, please review the loan forgiveness application instructions and the appropriate loan forgiveness application, and gather the necessary documentation. You will not be required to submit a completed form, because Texas Capital Bank will generate your form based on your input in our portal. However, you should be familiar with which form your business will use. 
For loans under $150,000 you will not be required to upload documents, just simply answer questions in our portal and we will prepare the application for submission. 
For more information, please review these tips. If you have questions, please email [email protected] or call 855.462.4222.
All loans subject to Texas Capital Bank credit approval and SBA eligibility