Commercial Real Estate & Property Management
The market may fluctuate, but we're unwavering in our commitment to our clients.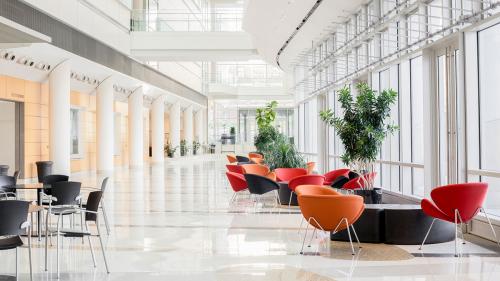 A national team with a single focus
Along with our clients, our commercial real estate group has experienced every economic cycle since the 1980s — and we've never met a market we can't lend through.
Led by a team of seasoned experts, our commercial real estate and property management group understands the needs and nuances of your business. We work fast and smart to ensure timely turnaround, whether that's opening accounts, extending real estate financing, securing a construction or acquisition loan or returning a phone call with answers to your questions. No matter what the market brings, you'll find our deep bench of responsive advisors accessible and always open for business.
Who we serve
Our specialized team supports commercial real estate owners, developers and investors across the nation, as well as self-managed and third-party property management companies.
What we offer
We provide financing for an individual project or a series of transactions, including construction loans (with a focus on market, project and developer track record) and term lending, such as bridge loans (averaging 3-5 years) and acquisition reposition loans.
Industry: Commercial Real Estate
Start a conversation that lasts.
Solutions and service that make your life easier
Our products are backed by reliable, responsive and highly personal service that's unmatched in the industry.
Explore our complete suite of payment and treasury solutions backed by an online platform to increase control and visibility.
Our specialized team is experienced in leading syndication loans, arranging and underwriting financial structures to meet your requirements.
Access a versatile solution designed to improve visibility into spend and eliminate the need to keep cash on property sites.
There's significant strategic value that comes with the relationship we have with Texas Capital Bank. They support us almost like consultants — presenting services that I had never considered before I partnered with a bank that works with businesses our size.
Tasos Katsaounis
President and CEO | Bread Man Baking Company
Connect with an expert banker.
Experience more with experienced bankers who are committed to helping you grow.
Contact Our Experts