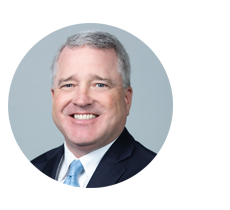 Rob C. Holmes
President and Chief Executive Officer


Texas Capital Bancshares, Inc. & Texas Capital Bank
Rob C. Holmes serves as Chief Executive Officer, President and a member of the Board of Directors of Texas Capital Bank and its parent company, Texas Capital Bancshares, Inc. (NASDAQ®: TCBI). Holmes joined Texas Capital Bank in January 2021 after a 31-year career at JPMorgan Chase & Co., most recently serving as Global Head of Corporate Client Banking and Specialized Industries since 2011. In this position, he oversaw end-to-end responsibility for the business, providing global treasury management services, credit and investment banking solutions to clients in North America, as well as select countries in Europe and Asia, to help clients achieve their long-term corporate finance objectives. Holmes also shared oversight of the Commercial Banking Credit Markets business and was a member of the Commercial Banking Operating Committee and Board of Managers of J.P. Morgan Securities LLC.
Prior to serving as head of JPMorgan's Corporate Client Banking and Specialized Industries, Holmes was the co-head of JPMorgan's North American Retail Industries Investment Banking practice and the head of Investment Banking for the southern region of the U.S.
Holmes currently serves on the Board of Directors of Dillard's Inc; DDS (U.S.:NYSE). An active member of the community, Holmes has historically served as a National Trustee for Boys & Girls Clubs of America and on the board of the Dallas Citizens Council. He currently serves on the Advisory Board of The University of Texas at Austin McCombs School of Business, as well as a member of the Development Board for the University and most recently an inaugural member of the executive committee. In addition, Holmes is active on the board of the Baylor Health Care System Foundation. He is a long-time member of the Salesmanship Club of Dallas, which owns and operates the Momentous Institute.
Holmes received a Bachelor of Arts degree in Economics from The University of Texas at Austin and holds a Master of Business Administration from Southern Methodist University.