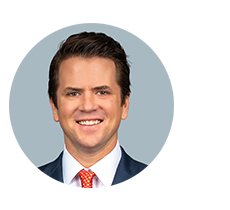 Matt Scurlock
Executive Vice President, Chief Financial Officer
Texas Capital Bancshares, Inc. & Texas Capital Bank
Matt Scurlock serves as Managing Director and Chief Financial Officer* of Texas Capital Bank and its parent company, Texas Capital Bancshares, Inc. (NASDAQ®: TCBI). He is responsible for all accounting and financial reporting functions, as well as financial planning and analysis, capital planning, and funds management. He oversees the bank's Finance, Accounting, Investor Relations, and Strategic Sourcing departments, and also serves on the Board of Directors for the Texas Capital Community Development Corporation (TCCDC), a wholly owned subsidiary of the bank whose purpose is to lend and invest in economic development for underserved communities.
Scurlock joined Texas Capital Bank in 2013 to lead the development of the Capital Analytics and Stress Testing group. He has also served as Director of Finance and Executive Vice President, Corporate Treasurer. In his most recent role, Scurlock was responsible for managing the bank's Corporate Finance, Investor Relations, Corporate Treasury, and Corporate Strategy initiatives. He became Chief Financial Officer in January 2022.
Before joining Texas Capital Bank, Scurlock worked for Deloitte & Touche LLP, where he provided strategic consulting to financial services clients. Prior, he served as a Vice President in the Corporate Finance group for Zions Bancorporation (NASDAQ®: ZION), leading financial modeling and balance sheet management efforts. He has served in leadership positions across the Corporate Finance, Risk, Treasury, and Strategy sectors for over fifteen years.
Scurlock earned a Bachelor of Business Administration from Texas Tech University and a Master of Business Administration from the University of Utah. He serves on the Advisory Council of The Rawls College of Business at Texas Tech University and on the T. Boone Pickens YMCA Board of Management.
*The Board of Directors of Texas Capital Bancshares, Inc. has named Matt Scurlock as an "executive officer."