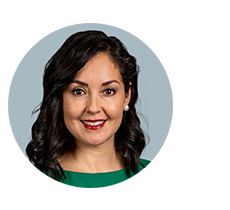 Anna M. Alvarado
Managing Director,
Chief Legal Officer & Corporate Secretary
Texas Capital Bancshares, Inc. & Texas Capital Bank
Anna M. Alvarado is a business-oriented, operationally focused executive who is bilingual (fluent in Spanish) and bicultural. In her role as Managing Director and Chief Legal Officer and Corporate Secretary* of Texas Capital Bank and its parent company, Texas Capital Bancshares, Inc. (NASDAQ®: TCBI), she is responsible for supervising and coordinating all legal services for the company, serving as key legal advisor to the Board of Directors, ensuring legal compliance with all securities laws and banking regulations, serving as the lead legal advisor on all the firm's strategic initiatives and commercial and transactional matters, advising the bank on litigation risks, and serving as primary liaison with regulators. She is also a member of the firm's Operating Committee. Her strengths include M&A, executive management, talent development, corporate and public company governance, ESG, public relations, and board management.
Alvarado joined Texas Capital Bank in October 2021 to help the firm rebuild and transform itself into the flagship financial services firm in Texas, bringing more than 10 years of broad-based expertise in leading business and legal advisory services, including scalability, expansion, and domestic and international integration. One of Alvarado's key priorities, and a strategic component of the firm's transformation, was creating and standing up an investment banking division and its broker-dealer: TCBI Securities, Inc. d/b/a Texas Capital Securities, which obtained its FINRA license in December 2021.
Previously, Alvarado served as the global general counsel for FirstCash, Inc. (NASDAQ®: FCFS), a consumer financial services and retail company and the leading international operator of retail pawn stores. During her tenure there, Alvarado oversaw an international team of more than 50 people and led several important initiatives, including the company's Latin American expansion and several domestic acquisitions. Before FirstCash, she served as a trial attorney at Texas-based firms Tanner & Associates PC and Hill Gilstrap PC.
Alvarado holds a Bachelor of Arts and Master's in Business Administration from Bentley University in Massachusetts and a law degree from SMU Dedman School of Law. She was voted Top Corporate Attorney in 2017 and 2018 by Fort Worth Magazine, and most recently, she was selected as among the Top 100 Most Influential Latinas by Latino Leaders Magazine.
Alvarado serves as a member of the Board of Directors and the Finance and Strategy Committees of the nonprofit ACH Child and Family Services. She also serves on the Board of Visitors for TCU's Brite Divinity School. Alvarado lives in Fort Worth, Texas, with her two children.

* The Board of Directors of Texas Capital Bancshares, Inc. has named Anna Alvarado as an "executive officer."