Optimize Treasury Management in 3 Steps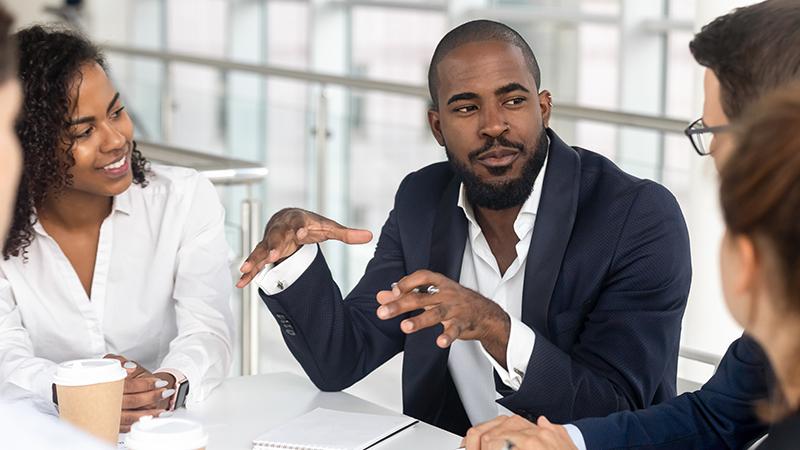 Solutions and relationship reviews for managing cash flow
Treasury products are a capability for any bank, but at Texas Capital Bank, we focus on solutions and ongoing relationship reviews for managing cash flow.
Allison McDaniel
SVP, Head of Treasury Process and Analytics
This year brings in many social and geopolitical uncertainties requiring businesses to prioritize agility and adaptation. Yet among the uncertainty, one thing remains the same: our ability to help you and your business maintain clear solutions in not-so-clear times. Closely connecting with your bankers while managing your business through any circumstance gives you flexibility when you need it most. From a team of bankers with specialized expertise in this industry, Texas Capital Bank brings you insights and advice over a three-part series.
FinTech Payments and Services 
What makes our FinTech and payments services stand out are the substantial and tangible investments we've made into treasury solutions and the accommodating adaptability they possess — allowing for answers, products and expertise relevant to client market segments. Our FinTech and payments services are not hindered by legacy and M&A infrastructure, enabling an intuitive platform that assists clients with the issues they face, as they face them.
 
With our continual commitment to providing a robust suite of treasury solutions and enhancing our technical proficiency, we aim to become each of our clients' trusted financial resource — as well as the flagship financial services firm in Texas.
Optimize your treasury management and auditing operations within three key steps: 
Maintain
Initiate
Calibrate
Maintain
We encourage you to stay in contact with your client manager for assistance with improving your cash flow management. Clear communication allows for apt risk assessment and mitigation. With advisory resources such as efficiency and cash flow analysis, we can carefully craft solutions and make recommendations on business process improvements.
Reviewing your relationship with your bankers is also a good idea, so that you are always privy to new technology solutions that are well-suited to your specific needs. The technology solutions we offer can supplement client relationships, but aren't meant to replace them. Through augmenting banking resources with technologies, we can collect needed information to find the solution to best match your business model.
Initiate
It's important to learn more about options available for saving time and money, as payments solutions evolve quickly to meet market demand. The eCommerce boom driven by the pandemic means more money crossing borders than ever before. Are you using the most cost-effective cross-border payments for transactions? Speak to your account manager to learn about the benefits of foreign currency transfers (FX) versus USD wire transfers. FX transfers make for more timely and cost-effective transactions, solidifying this type of transfer as an imperative tool for avoiding business interruptions.
Additionally, understanding digital business threats (like the disadvantageous surcharges associated with USD wire transfers) and opportunities (such as optimized payment processes to save money) can help drive success and can bring specificity to your banking solutions. With new challenges like ongoing supply chain issues, keeping transactions smooth and uninterrupted is more important than ever.
Calibrate
We're constantly improving our capabilities to better serve the speed of business needed in today's world. In April, we launched Zelle®, available in online banking dashboards and apps now. Zelle® is an easy way to send money directly between enrolled U.S. bank accounts, typically within minutes. With just an email, home address or U.S. mobile phone number, you can send and receive money quickly, safely and easily with more people, regardless of where they bank.
 
We've also bolstered our portfolio reporting capabilities by adding a new client wellness overview to the online banking dashboard. This provides more insight into your business' overall health, so we can provide more comprehensive solutions that are informed by your particular situation and goals. These real-time data calibrations at your fingertips allow for easier decision making, peace of mind, and less business disruptions.
---
Identify the right team
Continue to build your business by using FinTech payments services at Texas Capital Bank, and you'll experience the same resources and infrastructure of a national bank, matched with personalized service from Texas based banking and treasury experts. Access to this suite of treasury and cash management tools benefits the stability and longevity of your business by optimizing how you spend your money on daily operations, as well providing the know-how to skillfully navigate digital finance. Preparedness is a great practice when facing the challenges of perpetually changing circumstances, and with the right advisory services, hurdles can be planned for before they ever arise. 
 
Texas Capital Bank invests in your business by investing in you, and with the wide range of solutions offered through FinTech payments and more, backed by a team of industry experts that can personalize service and decision making since your community is their community. To gain access to Texas Capital Bank FinTech payments, get in touch with a member of our team today.
Connect with an expert banker.
Experience more with experienced bankers who are committed to helping you grow.
Contact Our Experts
Zelle® and the Zelle® related marks are wholly owned by Early Warning Services, LLC and are used herein under license.