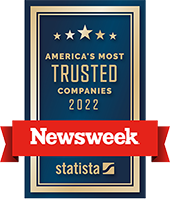 Thank you for making us the most trusted bank in America.
We're honored to be on <em>Newsweek</em>'s list of America's Most Trusted Companies as the #1 most trusted bank.

Rob C. Holmes
President & Chief Executive Officer
I am honored to share exciting news about our Company. Last week Newsweek recognized Texas Capital Bank as the most trusted bank in America, based on a first-of-its kind survey Newsweek conducted with market research firm Statista. I'm writing to express gratitude – to our employees for the hard work that made this achievement possible and to our clients and investors for the trust you place in our Company.
Newsweek and Statista asked 50,000 Americans to rate their trust in companies they know well as a customer, investor or employee, allowing them to choose from all publicly traded U.S. companies with revenues over $500 million*. Based on the survey, Newsweek named the 400 most trusted companies in America, ranking firms across 22 industries. Within our industry, Texas Capital Bank ranks first.
Being named as the most trusted bank in the country is an honor and a true testament to the hard work and dedication of our employees on behalf of our clients across every facet of our platform.
Rob C. Holmes
President & Chief Executive Officer | Texas Capital Bank
This recognition powerfully validates the values and strategy guiding our Company since we launched an enterprise-wide transformation of our business just over a year ago. As I wrote in my letter to you earlier this year, our strategy explicitly aims to build trust and enduring relationships with our customers, investors, and employees.
Clients: We intend to build Texas Capital Bank into the flagship financial services firm in Texas, serving the best clients in all our markets. Our strategy centers on assembling the best team of professionals in the state, delivering seamless execution and providing the widest possible range of products and services to ensure we are a trusted, relevant partner to our clients. We know the success of our clients will define our Company. We are determined to earn the right of having the first call from the state's best clients in every industry we serve.
Investors: As we have quickly evolved into a full-service financial services firm founded in Texas, we strive for long-term value creation while contributing to the future prosperity of America's fastest-growing state economy. I'm proud to lead one of the very few U.S. banks committed to investing in long-term organic growth.
Employees: Our aggressive hiring and retention program focuses on recruiting and retaining people not only for their talent and track record but also for their character, cultural fit and commitment to our core values of transparency, accountability, candor and trust. Our employees know that if we say we're going to do something, we're going to do it. They know we're committed to investing time and treasure in the communities where we're privileged to do business. And they know we're determined to be the best company in America for client-obsessed business builders who want to work in banking.
Last week's recognition from Newsweek is a testament to the transformation of our Company and to our employees' tremendous commitment to earning the trust of clients, investors and one another. To our employees as well as our clients and investors: Thank you. We will keep earning your trust every day.
View Newsweek's official list of America's Most Trusted Companies here.
By the Numbers
Newsweek and Statista's first annual ranking of America's Most Trusted Companies identified publicly traded U.S. corporations in 22 industries with $500 million or more in annual revenue, then surveyed U.S. residents about which companies they trust the most.
50,000
U.S. residents surveyed
#1
Our position as the most trusted bank
Put our expertise to work for your business.
Experience more with experienced bankers who are committed to helping you grow.
Contact Our Experts
*In addition, Newsweek included the largest banks in terms of assets in the list.