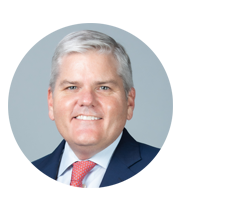 Matthew Quale
Executive Vice President,
Head of Consumer Banking


Texas Capital Bank
Matt Quale serves as head of consumer banking, sales enablement, and marketing for Texas Capital Bank. Additionally, he is president of Bask Bank, Texas Capital Bank's direct-to-consumer digital bank. He brings 20 years of expertise in strategic business strategy, sales and marketing and product development to this role.
Before joining Texas Capital Bank, Quale was chief marketing officer at Brighthouse Financial, a publicly traded consumer financial services company and spinoff of parent company MetLife. He led the launch of the Brighthouse Financial brand in 2017 and established, formed and directed the company's marketing group. He also was head of U.S. retail marketing at MetLife from 2013 to 2017 where his team supported annuity, life and disability insurance products across a variety of channels. He also led cross-sell initiatives for MetLife's Premier Client Group, looking to deepen product relevance with existing customers.

From 2010 to 2013, Quale worked at American Express in two roles: vice president, Sales Strategy and Enablement for Global Merchant Services and vice president, Strategy, Office of the Vice Chairman (COO). While at American Express, he played a key role in defining the strategic plan for the merchant services business and re-define the CRM capabilities and organizational responsibilities to drive efficiency for the sales organization.

Quale's experience in strategy, brand management and marketing is derived from his work for internationally recognized companies such as WebMD, McKinsey, ConAgra, Coca-Cola and General Mills, and he has transformed multiple organizations through strategic initiatives to create high-performing teams and deliver profitable revenues.

Quale holds a bachelor's degree in history from Princeton University and an MBA from the Anderson School of Management at the University of California in Los Angeles. He is an active board member for Junior Achievement of Central Texas.