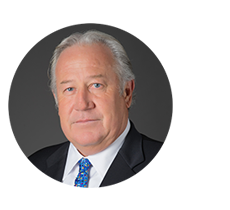 Joseph Shockey
Chairman and CEO


BankDirect Capital Finance
Joseph G. Shockey is the co-founder, Chairman, and Chief Executive Officer of BankDirect Capital Finance. BankDirect, an operating subsidiary of Texas Capital Bank, is a diversified financial services company headquartered in Lake Forest, Illinois.
Over the last 30 years, Shockey has built his career establishing de novo businesses and orchestrating the complex issues involved in turnaround situations. Before joining BankDirect, he co-founded Baytree Finance Company and served as President and Chief Executive Officer for four years. Shockey spent more than seven years with FIRST Insurance Funding Corp., serving in a variety of functions, including Executive Vice President and Chief Operating Officer.
Prior to his experience with FIRST, Shockey established the Insurance Services Group for Whirlpool Financial Corporation and served as Managing Director. Prior to joining Whirlpool Financial Corporation, he spent more than six years with Borg-Warner Insurance Finance Corporation. He also has broad experience in other consumer and commercial financial services businesses, having previous experience with Liberty Financial Management Company, American Investment Corporation, and Fifth Third Bank.
Shockey is a member of the Turnaround Management Association and is a licensed property/casualty insurance agent and broker. He is also an active member of the USGA and is involved in various charitable and civic organizations.
Shockey earned a bachelor of science from Xavier University and an AAB from Cincinnati Technical College.