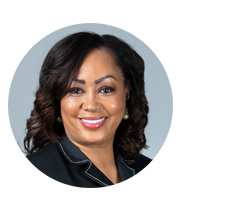 Effie Dennison
Executive Vice President,
Community Development & Corporate
Responsibility
Texas Capital Bank
Effie Dennison is Executive Vice President, Director of Community Development and Corporate Responsibility for Texas Capital Bank (TCB) and is responsible for the bank's strategic investment and community relations activities across all TCB Texas markets. Responsibilities include fulfillment of the banks' philanthropic giving, employee engagement and Community Reinvestment Act (CRA). Dennison is also President of Texas Capital Community Development Corporation (CDC), a wholly owned subsidiary of the bank that provides commercial loans for development and revitalization of economically distressed areas. The CDC also makes long-term investments in various funds that provide equity for small and mid-size businesses.
Dennison has over 28 years of experience in financial services. Prior to joining Texas Capital Bank, Dennison served in executive roles as Director of Sales and Marketing for Vendor Resource Management, Fannie Mae North Texas and Senior Vice President of Community Development for Wells Fargo Bank-Texas. 
Dennison has served on numerous not-for-profit boards, leading fundraising efforts and capital campaigns.  She currently serves on the boards of Texas Women's Foundation, Parkland Foundation and VNA/Meals on Wheels. She is a member of the Executive Women of Dallas, Genesis Women's Shelter Domestic Violence Alliance Board, The Dallas Summit and The Charter 100 and Links Incorporated, Dallas Chapter.
She has been recognized for her outstanding leadership and work in the community and most recently was the recipient of the Community Advocate Award with the Dallas Business Journal's Minority Business Leader Awards and the Hero Award, Anthem Strong Families. She is also past recipient of the Texas Women's Foundation Maura Award; Southern Methodist University Women's Symposium Profiles in Leadership Award; and Texas Executive Women, Women on The Move Award. 
Under her leadership, Texas Capital Bank has received numerous recognitions across all markets for its community engagement and strategic investments.  Most recently, the bank was awarded the Corporation of the Year Award presented by Association of Fundraising Professionals (AFP) Network and D CEO magazine's 2018 Corporate Social Responsibility Award.